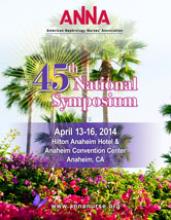 ANNA's 45th National Symposium is underway at the Hilton Anaheim Hotel & Anaheim Convention Center in Anaheim, CA. The program features many educational and networking opportunities. Optional preconference workshops, concurrent sessions on a choice of topics, specialty practice networking sessions, and an optional postconference workshop offer you the opportunity to tailor your schedule to meet your individual interests.
Enjoy Anaheim ~ Helpful tips, discounts, Disney® tickets, maps, and more!
Congratulations!
Congratulations to the many award, scholarship, and grant winners who were recognized at the symposium:
Symposium CNE Evaluation Process
Attendees, please note that you must complete the evaluation process in the Online Library by May 16, 2014, in order to redeem your contact hours for this meeting.