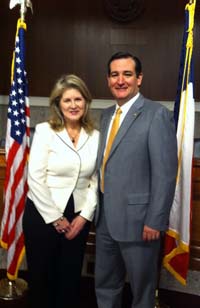 > Download as a PDF file
ANNA member Gail Dewald of the Alamo City Chapter participated in the Nurse in Washington Internship (NIWI) program in Washington, DC, March 17-19, 2013. Sponsored by the Nursing Organizations Alliance, the NIWI program provides nurses the opportunity to learn how to influence health care through the legislative and regulatory processes. Participants learn from health policy experts and government officials, network with other nurses, and visit members of Congress.
Gail's attendance at NIWI was funded by a grant administered through the ANNA award, scholarship, and grant program and sponsored by Nursing Economic$, The Journal for Health Care Leaders. During her visit to Washington, DC, Gail met with her members of Congress, including Senator Ted Cruz (R-TX). She stressed the importance of the federal government continuing to support nurses and nursing as well as other topics specific to the renal community.